July 23, 2021
The Best Self Improvement Books – Ten Stellar Picks
Each of us are constantly "works in progress" – striving to learn new skills, spark new passions, and take action on our growth goals. Here's our list of the ten best self-improvement books bound to inspire your personal development journey.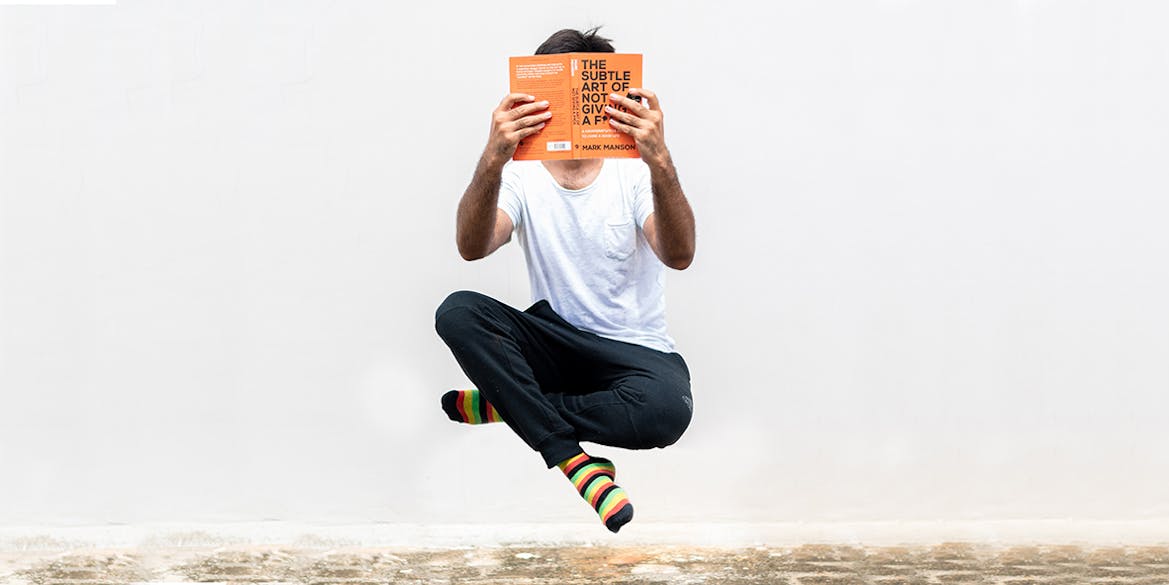 Self-help has had a major glow-up. This once taboo topic has taken the literary industry by storm, now projected to be worth $13 billion by 2022.
While self-help books aren't exactly the magic pill for everlasting happiness, they do offer a myriad of perspectives and practical tips on how to unlock new opportunities and mindsets in life. Over time, the habit of investing in oneself can reap some pretty phenomenal rewards.
With an industry this large, you might be wondering, "where do I even start"? Trust Uptime's curated list of the ten best (and best-selling) self-improvement books.
On Uptime
The Seven Habits of Highly Effective People is a time-tested philosophy with actionable steps that enables us to build better habits and become the people we'd really like to be.
Trouble at work, conflict at home, unfulfilling relationships – these problems affect us all at some point – whether we're young adults or in our later years. But some people move through them and thrive, while others find themselves getting stuck. The good news is that anyone can learn to solve and improve interpersonal problems. It's simply a matter of adopting new habits. Learn how to work from the inside-out to build the seven fundamental habits for improving your work and home life in Covey's classic text on principled personal change.
Here are 3 key insights from the book:
1. Habitual change is an inside-out action
2. We're more effective when we consider one another
3. No good habit will stick if you're not taking care of yourself
On Uptime
The Power of Now shows you that every minute you spend worrying about the future or regretting the past is a minute lost, because really all you have to live in is the present, the now, and gives you actionable strategies to start living every minute as it occurs.

Make the NOW the primary focus of your life
On Uptime
The Power of Positive Thinking shows you that the roots of success lie in the mind and teach you how to believe in yourself, break the habit of worrying, and take control of your life by taking control of your thoughts.
Peale was an American minister and author and one of the world's most widely recognized motivational speakers in the 20th century. The Power Of Positive Thinking is his most popular book, with over 5 million copies sold worldwide. 
Here are 3 key insights from the book:
1. Visualize your goals and work on your self-esteem to open up new doors
2. Your attitude is - almost - everything
3. Imagine a stress-free life and let go of control issues
On Uptime
Think and Grow Rich is a curation of the most common habits of wealthy and successful people that can help you find inner belief, make better decisions, and achieve your goals.
Think and Grow Rich is the ultimate guide for finding success. It can help make you rich - but not necessarily by picking stocks. Think and Grow Rich is the accumulation of two decades' work studying over 500 of the most successful individuals. It's one of the world's top self-help books and today, it's sold over 100 million copies. It even has its own reddit "mastermind" group.

Weak desire brings weak results, just as a small fire makes a small amount of heat
On Uptime
The Subtle Art of Not Giving a F*ck is a completely new approach to self-improvement. Manson is a New York Times bestselling author known for his blunt, down-to-earth advice on dating, masculinity, and happiness. But men, women, or otherwise will find value in this book that takes a bold approach to telling you why you shouldn't take yourself too seriously. 
Here are 3 key insights from the book:
1. Happiness is a human construct and it doesn't really exist
2. Suffering is inextricably tied to sh*tty values
3. Good values are socially constructive, realistic, and unselfish
On Uptime
Elizabeth Gilbert is best known for publishing Eat Pray Love, but Big Magic is just as much a must-read. The book will give you the courage you need to pursue your creative interests, as it shows you how to manage your fears, notice ideas and act on them, and take the stress out of creation. 
Readers will see first-hand Gilbert's own creative process and show how you can make sure your creativity keeps flowing freely. 
Here are 3 key insights from the book:
1. Let your fears coexist with your passions
2. Give yourself permission to create, even if you start at zero
3. Keep your day job to fuel your love affair with creativity
On Uptime
Daring Greatly is about having the courage to be vulnerable in a world where everyone wants to appear strong, confident, and like they know what they're doing.

Courage starts with showing up and letting ourselves be seen.
For those unfamiliar with Dr. Brené Brown, she's a social worker, researcher, PhD and explorer of all things human, especially topics, or rather feelings, like courage, vulnerability and shame. Her TED Talk sits smack behind Simon Sinek's Start With Why on the top TED Talks of all time list with 25 million views.  
On Uptime
Mexican surgeon and author, Don Miguel Ruiz, who turned from science to spirituality after a near-fatal car accident, knows all about them. His 1997 book, The Four Agreements, spent eight years on the New York Times bestseller list, selling over six million copies and spreading these four guiding principles to live by:
1. Be impeccable with your word
2. Don't take anything personally
3. Don't make assumptions.
4. Always do your best
On Uptime
The Secret explains how the laws of attraction govern the way you think and act, and how you can use them to achieve your goals and desires in life. It shows that by thinking positively we can help emit a positive energy that leads us in the right direction. Since publication, Byrne's book has sold almost 30 million copies.

Ninety-nine percent of who you are is invisible and untouchable.
On Uptime
Eat That Frog provides 21 techniques and strategies to help you stop procrastinating, so you can make the most of your time. This is Tracy's most popular book on personal development, outlining 21 simple steps that amount to a complete productivity system.
If you've been trying to become more productive and wish to give various aspects of your life a boost, these tips will help you make the best of your talent and natural abilities – while kick-starting your energy levels.
On Uptime
Mastery debunks the myth of talent and shows you there are proven steps you can take to achieve mastery in a discipline of your own choosing, by analyzing the paths of some of history's most famous masters, including Einstein, Darwin and Da Vinci.
Greene is also well known for four other New York Times bestsellers, including The 48 Laws of Power. 
For more on these books, plus other Self-Improvement Hacks, visit Uptime.
Recommended