Share your work.
Reach new people.
Grow your sales.
Uptime is the fastest growing platform providing key insights from the world's best content creators.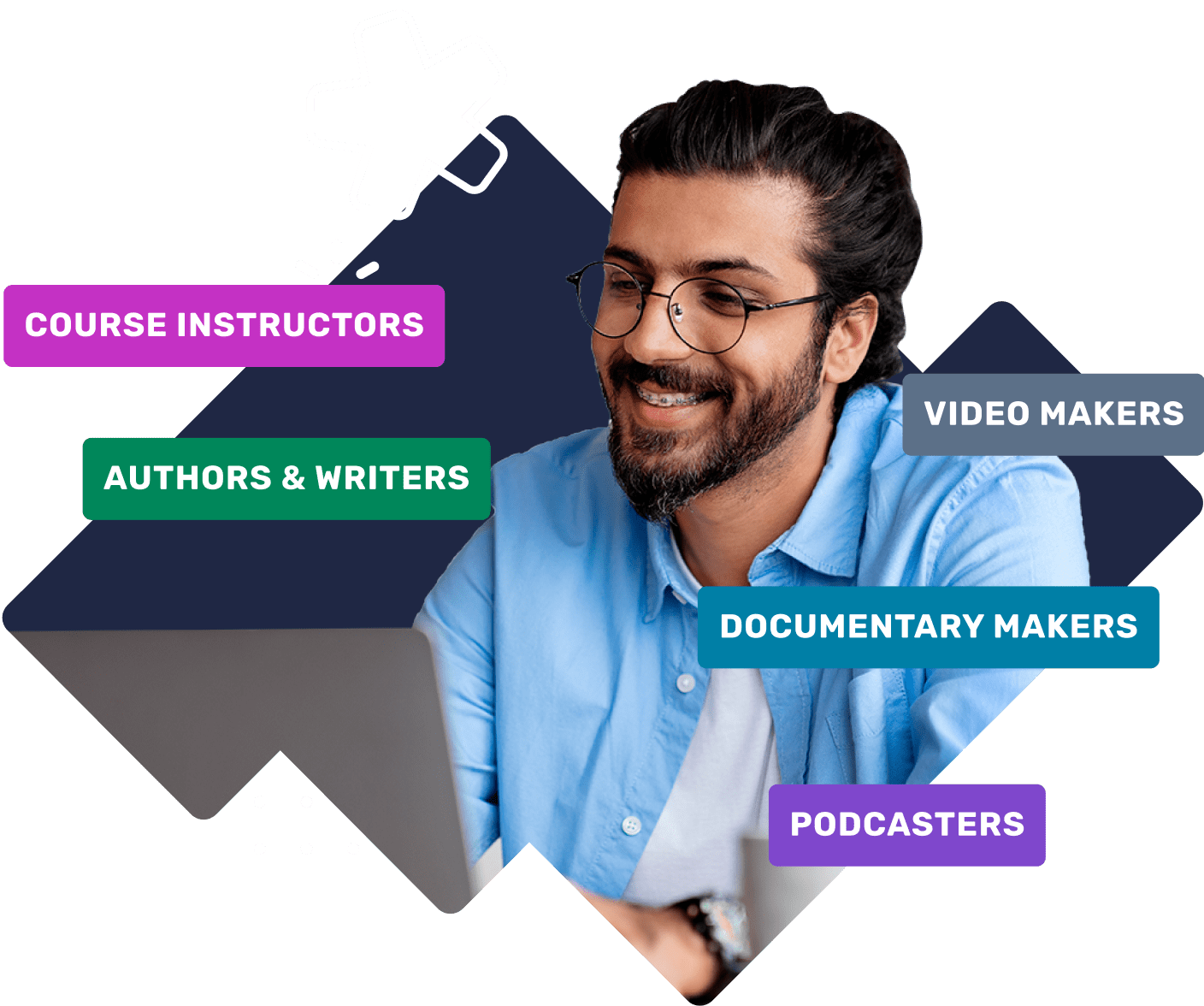 Like a movie trailer for your work. Get discovered by our 850k+ users.
Write a short summary of your best content: books, courses, podcasts, documentaries or something else
Our algorithm puts your work in front of engaged users who want to learn about your topic
Users are enticed to view your original work - without any cost to you

Uptime has a crucial role to play in making education and knowledge more accessible and affordable. I'm delighted that Who Cares Wins is featured on the platform, helping to spread the message to more people that they can have a positive impact on the world if they choose to do so.
Lily Cole, environmentalist and author of Who Cares Wins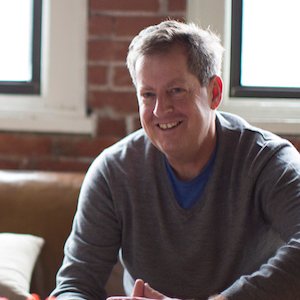 My book of 19th Century wisdom for the entrepreneur is this week's editor's choice at uptime - check it out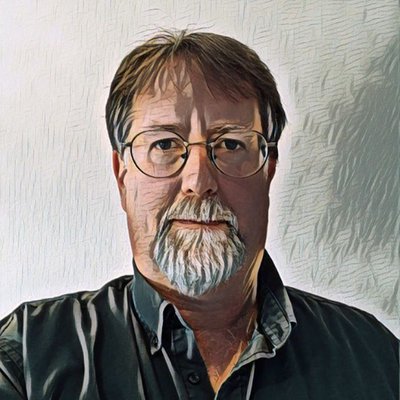 @chris2x
Chris Christensen
Interesting? Cool? Weird? The uptime app has a 5 minute written summary of an Amateur Traveler episode - Travel to Rome Summary https://buff.ly/3cEHPic #travel #podcast

With an app like Uptime, people can more easily access the books and documentaries that could give them the inspiration and motivation to take the first steps into making that big change.
James Doty, MD, Stanford professor and author of Into The Magic Shop
Be featured amongst the greats
Sit alongside thousands of titles from the biggest names like Stephen Hawking, Michelle Obama and Simon Sinek.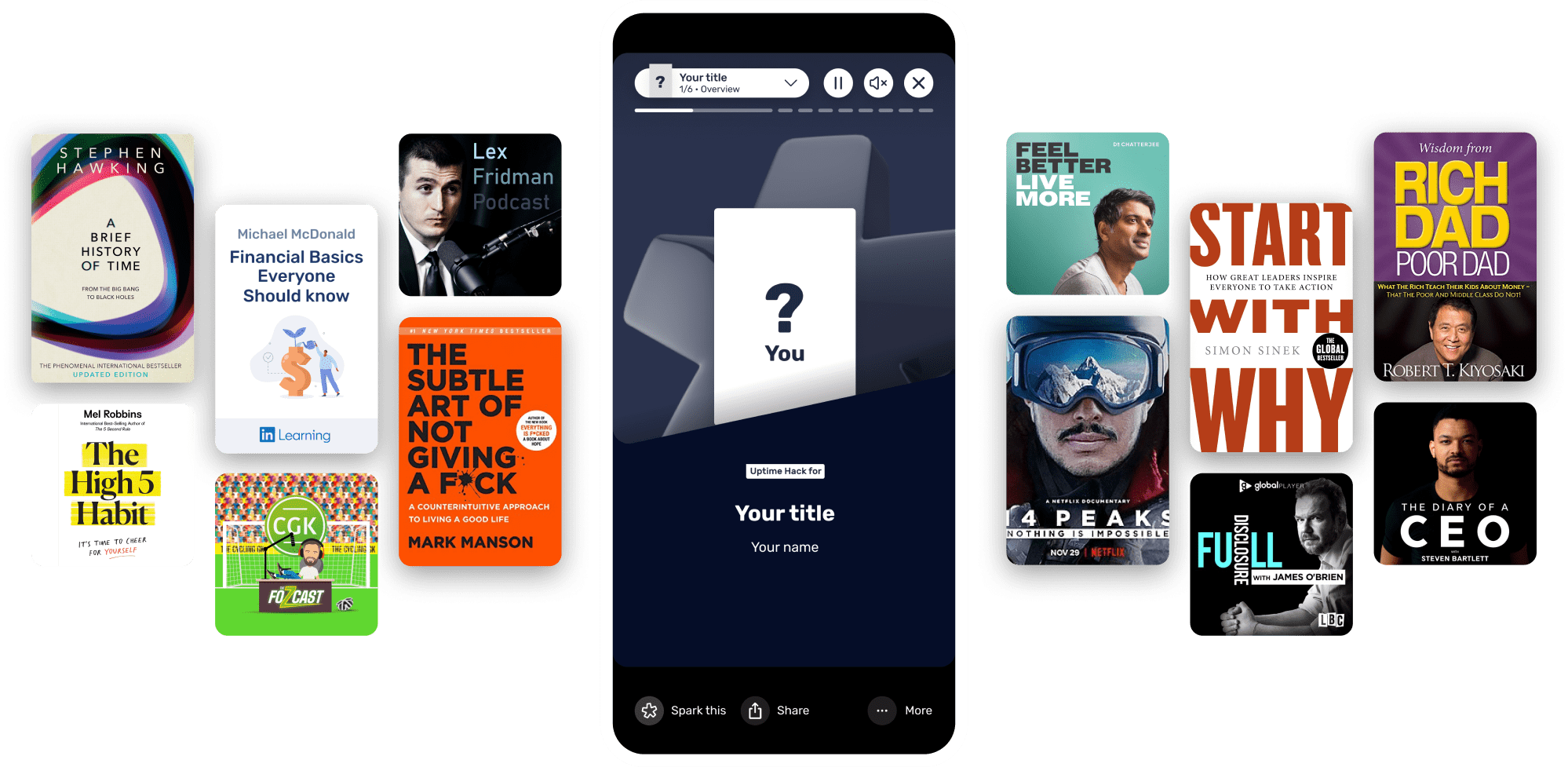 Content from the leading platforms
Leave the heavy lifting to us
You do your part
Create a 5-minute summary of your work using our tried-and-tested format (we call them Hacks), linking out to your content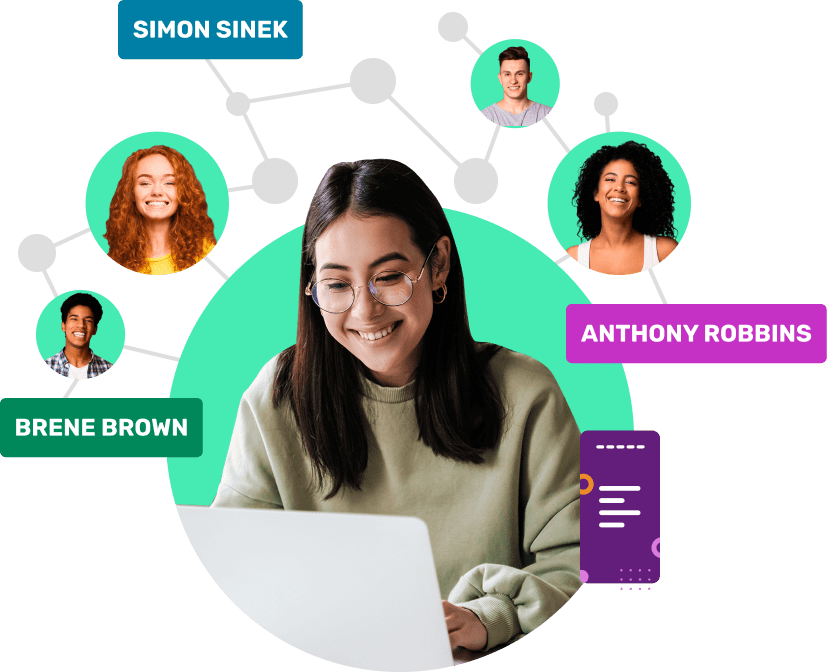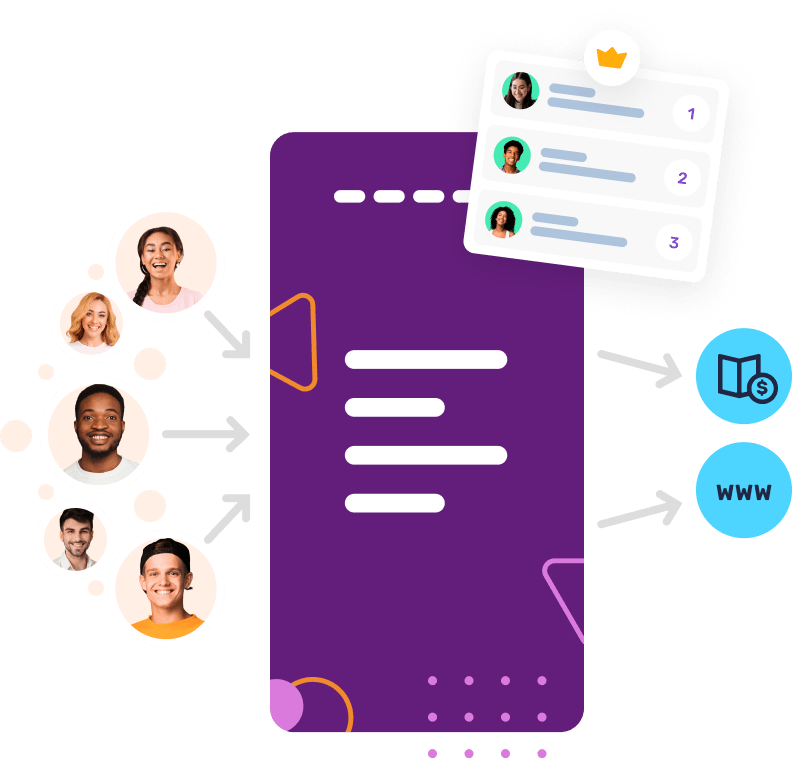 And we'll do ours
Distribute your Hack to our 850,000+ users on the Uptime app

Feature you on our social and marketing channels

Drive traffic to your website and existing content, leading to higher engagement and conversion

Give you free lifetime membership to Uptime Premium - worth $240
Our unique approach
Our platform automatically turns your Hack into visual, engaging slides for a stimulating user experience
We offer text, audio and visual modes so users can enjoy Uptime wherever they are, whatever they're doing
Using scientifically proven methods, we help users learn more of what they engage with so your ideas go further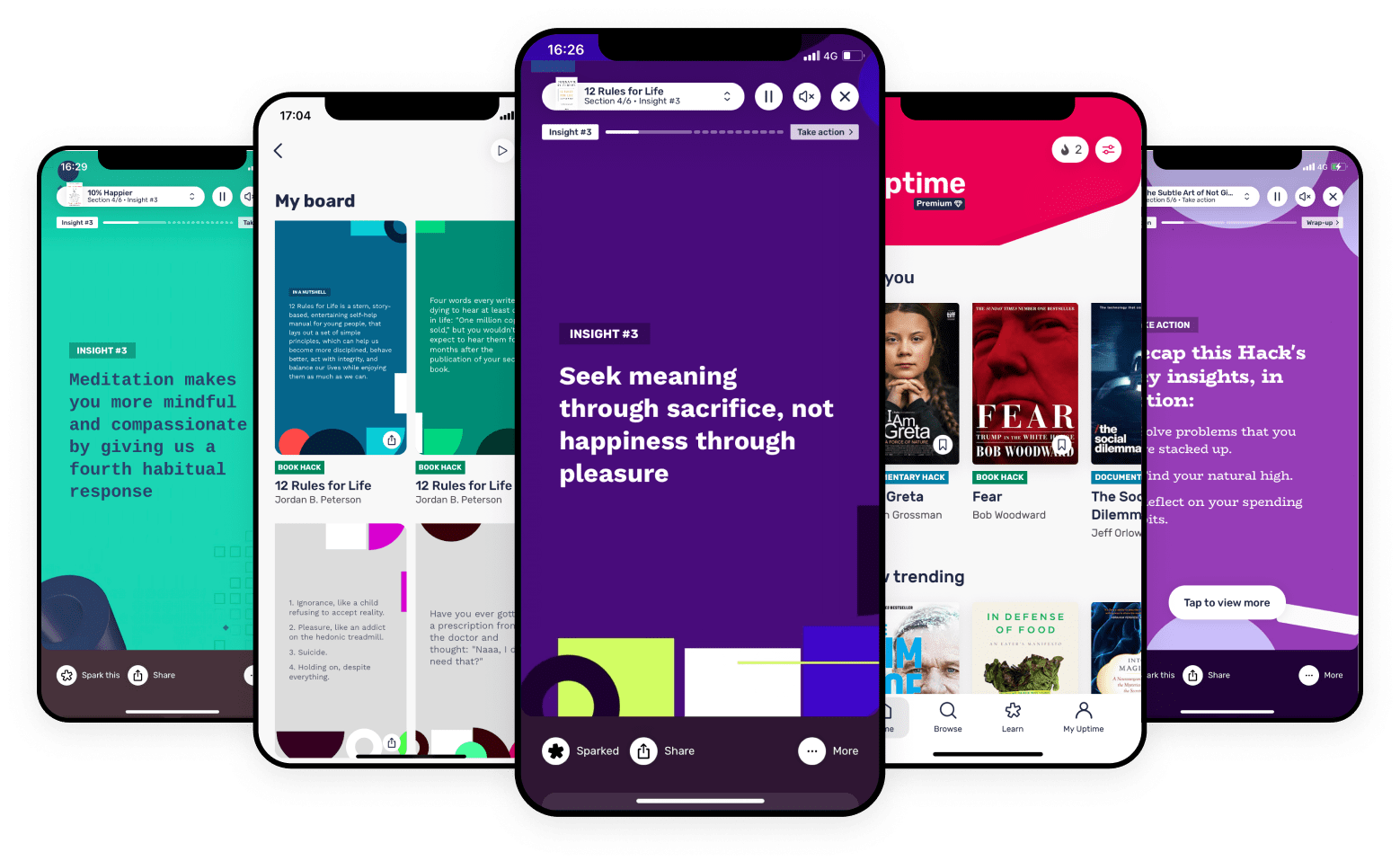 The Uptime audience
Our users are mainly young, curious millennials who are keen to learn, improve themselves and broaden their perspectives. But they don't know where to start. Our goal is to help them discover a library of great titles to make it easier for them to decide where to direct their time and attention.
850k+
users who are time-poor but dedicated to learning
11%
click through rate to the original source from users who complete a Hack
10min+
average session length per subscriber

Outstanding App!!! I really am amazed by your idea of book hacks. It helps me in deciding which book I should read next.
Play Store


It's strong content, uplifting. The first bit I played lead me to buy the author's book through the app. I love it.
App Store


It's a great point to start from when you want to discover where to spend your reading time
App Store


Short and sweet! Browse a long list of books and courses in minutes. I like the way the information is presented. 
Saves me time, love it!
Play Store

Where we go from here