March 07, 2022
Uptime supports Ukraine: we are now donating $10 from every annual subscription to CARE International's Ukraine Relief Fund
We want to make a difference this International Women's Day. To support the ongoing humanitarian crisis in Ukraine, we've slashed our annual membership price to 50% off, and will be donating $10 from every purchase made with the code 'UKRAINE' to CARE International.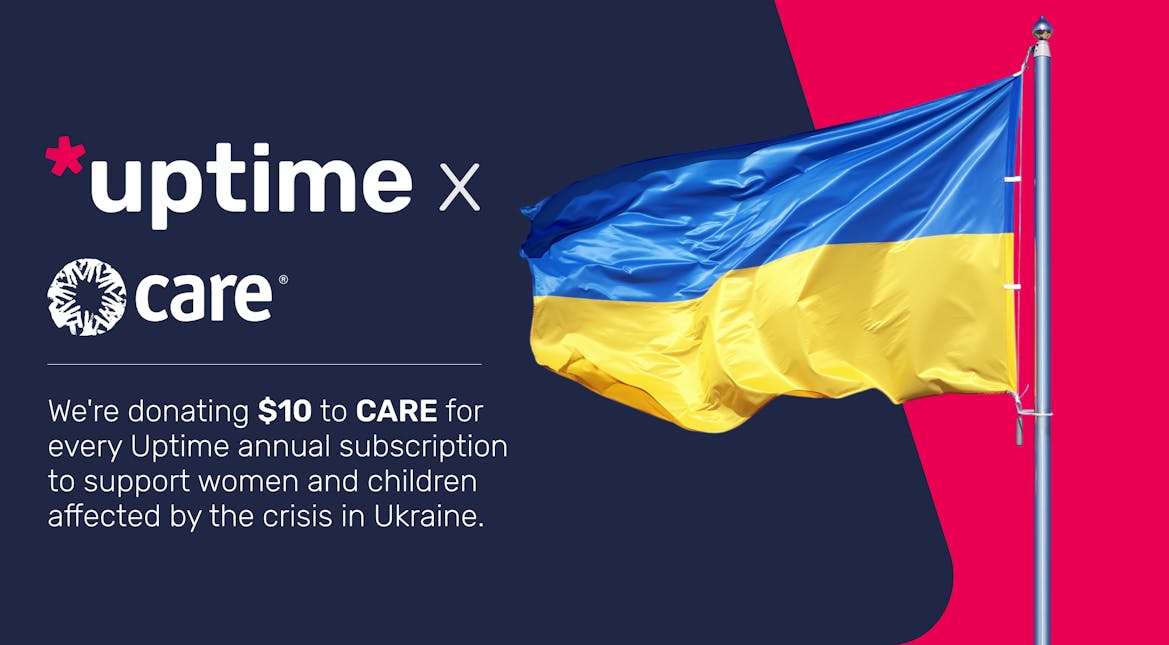 This International Women's Day, we want to make an impact.
Given the urgent need for support in Ukraine, and in honor of International Women's Day, Uptime has decided to donate $10 of every annual subscription purchased with a discount code this week (March 7-11) to CARE International's Ukraine Humanitarian Appeal.
To further help us support this initiative, we've taken 50% off the annual membership price too.
To donate to CARE International and receive an annual membership at 50% off, log-in to our website and enter the code UKRAINE underneath 'Add Promo Code'.
CARE International
At Uptime, providing care, compassion, and improved standard quality of life to others has always been at the crux of our values. It is who we are and all that we stand for.
In light of the ongoing crisis, this week is a crucial opportunity to support the women and children in Ukraine. CARE is a charity that works around the globe to save lives, defeat poverty and achieve social justice, so this collaboration was an easy decision. Sofía Sprechmann Sineiro, CARE International Secretary General, has recently spoken about the pressing urgency of this appeal:

The dramatic escalation of hostilities is having catastrophic consequences for the people of Ukraine, not to mention wider regional implications. The impact is already being felt by the ordinary people of Ukraine, many of whom were already struggling to pay for basic needs such as heating and food, and now are desperate to find safe haven.
CARE International will work with People in Need to distribute urgently needed emergency supplies such as food, water, hygiene kits, and cash to cover daily needs. Specialized staff will also provide additional psychosocial support for those affected.
Each $10 could provide essential hygiene supplies for one person for a month - and every $100 we contribute could provide emergency food for two families for a month.
Every $10 we can raise will make a big difference in supporting this initiative.
To donate, use the code UKRAINE on our website.
You can also donate to CARE International directly with this link to their donation page here.
Celebrate International Women's Day on Uptime
At Uptime, we seek to amplify voices, books, and stories from those who can better shape our understanding of the world and the way in which we all navigate through it. This International Women's Day, we are heavily focused on amplifying women's voices through our content and 'Knowledge Hack' Collections:
Discover our "A History of Women" Collection
Discover our "Books to challenge your worldview" Collection, made by the CEO of nonprofit Room to Read 
Recommended