September 24, 2021
Introducing Uptime's Sparks feature: a revolutionary new way of learning
At Uptime, we're not just here to summarize a book's key lessons - we want to help you remember them. That's why we created Sparks. Read on to find out why this might be our most important feature yet.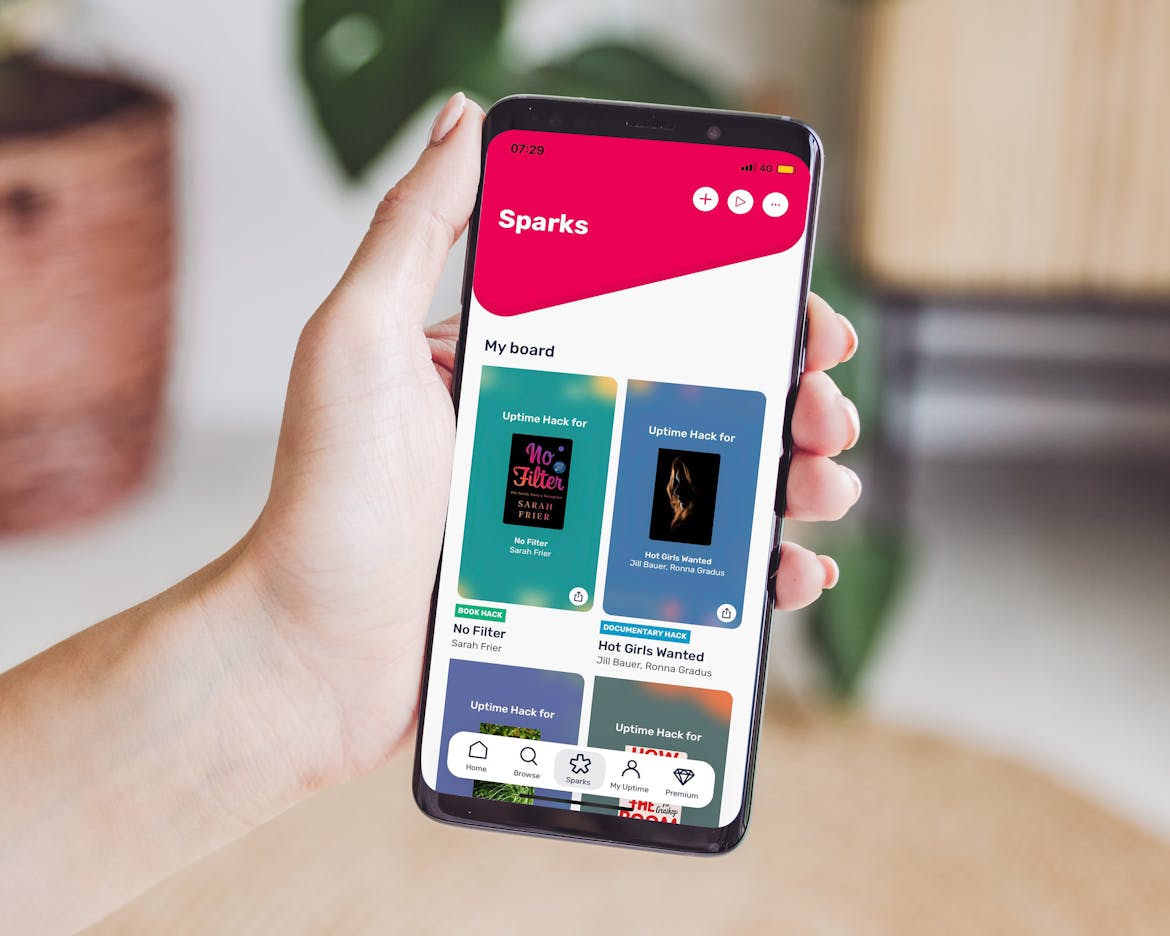 Today, Uptime has over 2,000 Knowledge Hacks on the platform - that's over 6,000 insights from top books, courses, and documentaries.

That's a whole lot of knowledge. And that number is only going up: we have over 40 new summaries going live each week. But with all this information ready at your fingertips, how do you make sure you're making the best use of it? 
We built Uptime because we want to make a difference in people's lives, not just curate a one-stop shop for knowledge (although we did manage to pull that off too ;) ).
We care about our users' long-term growth. We carefully curate everything that goes on Uptime, and, despite the sheer wealth of the material available there, we also recognize that simply discovering these ideas isn't what is going to help you start living them.
Simply put, we don't just want to show you cool insights. We also we want to help you learn them.
To help you do so, we created Sparks.
Spark your curiosity
Our users told us they use Uptime because of those 'lightbulb moments' - the times where they stumble upon a new idea that completely changes the way they think about a certain topic.
The Uptime team carefully curate every book, course, or documentary that finds its way onto the app, so that each session you spend in-app is full of those little lightbulb moments; now, the new Sparks feature is your way of collecting them.
Users asked us if they could be given a way to save the parts of a Hack that they found interesting. Now, the next time you read a Knowledge Hack, there's now an option to 'Spark this' on the bottom left-hand side of your screen.
Whether you're inspired by a quote, an interesting fact, or a call to action, the ability to Spark lets you save ideas so that you can come back to them later. This way, you can browse through the wide array of content on the app and personalize your experience according to whatever you find interesting.
Sparking is also a way to make sure you don't forget anything you're interested in. Reminding yourself of the knowledge you find on Uptime makes it much more likely to sink into your long-term memory; after all, our brains need a bit repetition to properly learn and digest new information - or we'd all be reciting Shakespeare speeches the second we'd read them. That's why we're so proud of Sparks; it's a completely new way of using Uptime, one that encourages long-term learning and idea retention.

When you start learning the lessons you read on Uptime, rather than just reading up on them, you can start incorporating them in your day-to-day life. That's what gives you the ability to create real change.
Build your own treasure chest of knowledge
To support our Sparks feature, we've also created Boards, a handy space where you can store anything that's Sparked your curiosity. Each time you create a Spark, you can either start a new Board, or add to a pre-existing one. 
To stop everything from getting too cluttered, you can also organise your Boards into separate categories - a Board for Entrepreneurship, another for Mental Health, and another for Managing your Finances, for example. 
This way, if you've nervous about a big presentation coming up at work, you can quickly find a few presenting and communication tips in your Public Speaking Board. Equally, if you know you've got to sit some exams in a few months, you can start compiling any study tips you might find into a Learning and Focus Board. You can use the feature however you'd like - it's completely up to you.
Here's how you create your first Spark:
Open Uptime, and find a Knowledge Hack that looks interesting to you
Once you find something that's interested you, simply press 'Spark this' on the left-hand corner of the page
Select which Board you'd like to add your Spark to - you can either start a new Board, or add it to one you're already curating 
Continue on reading - the Spark feature is built so that it doesn't interrupt your consumption of the Knowledge Hack; it's a seamless experience that's meant to enrich your experience, not disturb it
Come back to your Boards whenever you want. There's also an option to Share, if you want to send the insights you've found with others
Sparks is a really important new feature to us at Uptime, and the result of tremendous hard work from our dedicated team. "We got a lot of feedback from our users about wanting to collect all the knowledge they're getting from Hacks, and Sparks are our way of doing it," comments Humberto Mogetti, Lead Product Designer at Uptime.

Sparks lets you collect the information you want to remember, to share ideas you like with your friends and family. Simply put, it offers each user a completely new way of using Uptime. We can't wait to see the results and keep adding to Sparks in the future.
Sparks are now available to use worldwide, so try it out for yourself and let us know what you think. User feedback from our community is very important to us, so if you like what you're seeing, let us know by tagging us on Instagram at @uptime.app
If you're still curious about us, you can find out about how Uptime's story and our founders (Jamie True, Jack Beckhor, and Patrick Walker) by reading about us here.
Recommended