September 15, 2021
Bullet Journals and Weekly Planners: The Ultimate Guide on How to Keep a Journal
In this article, we explain why breaking down your tasks - via bullet journaling, weekly planners, and habit journals - is the best way to boost your long-term productivity.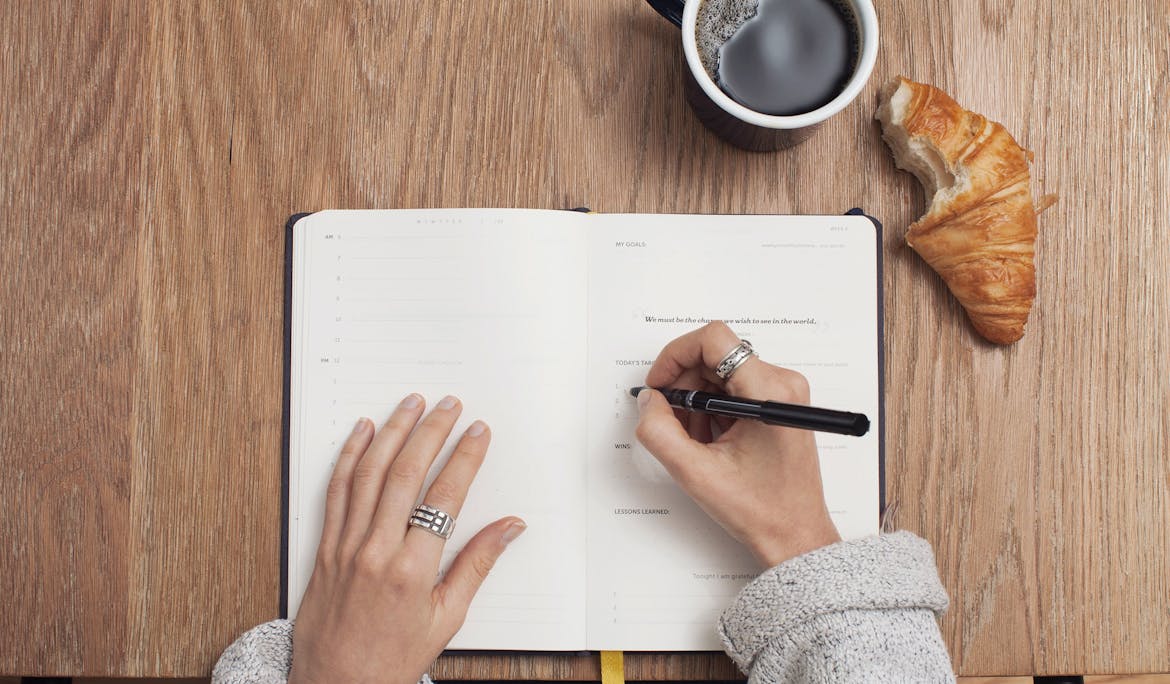 Keeping a diary may sound like a teenage pastime, but there's a lot more to the age old art of keeping a journal than meets the eye. If you've never kept a journal before, never fear: it's an activity for beginners and seasoned writers alike. 

There are tons of creative ways you can get into journaling that are more specific and beneficial than a 'book of secrets' or 'list of things I did today.' For example, gratitude journaling is an effective tool for improving mental health, while a manifestation journal helps connect you with the things you most desire in life, and think about how to make them come alive. And of course, there's nothing wrong with the old standby of simply jotting down your feelings. 
While journaling is a personal endeavor, it doesn't mean that you can't get tips from the experts before starting your journal-journey. Whether you want to use journaling as a form of therapy and self-expression or to help you plan out your weekly goals and build your future, we've curated a list of the best courses and guides on how to kickstart this new habit. 
There are many benefits to journaling. It can be used for:
To track your daily progress
Quickly reminding yourself of five things you're grateful for at the end of every day, to keep your eyes on what's going right in your life, not just what's going wrong
To help you plan your daily, weekly, or monthly goals
To check in with yourself on how you're feeling
To look back on; it's satisfying to look over past entries and see how far you've come
But don't take it from us. To explore this topic in detail, we've curated insights from productivity experts to explore how and why you should swap your nightly social media scroll for sometime night-time journaling.
On Uptime
In this class, entrepreneur, business owner, and course instructor Jessica Owinyo shows you how to create your own bullet journal. 
What is bullet journaling?
The clue is in the name: bullet journaling helps us keep a very quick record of the important things happening in your life right now. It's a method of organising your life quickly and efficiently into one notebook, with checklists, bullet point lists, and reminders to cover both your short and long-term goals. 
In this course, Owinyo explains the difference between tasks and goals, and, better yet, how to get them all done. She also recommends keeping a localized list of what you want to read and watch, or ideas you might have for the long term. 
Owinyo's tips for getting started include:
You don't need a branded bullet journal unless you want one. You just need a durable and portable notebook. Owinyo prefers a dot grid, but some people like traditional lined paper.
Test pens for use before settling on a brand. Have extra colored pens for doodling or illustration.
A protractor can help keep your entries straight and organized. 
Decide what you want to include in your journaling practice. It can be anything from work schedules to meal plans to birthday and family occasions, or some configuration of that and more. It's always good to have pages set aside for notes and ideas, so they stay in the same place as your organization hotspot. To start, list everything you want to include and organize it later. 
Once you're ready to start, make an index at the beginning of your journal. Separate weekly or monthly and use bookmarks to denote different sections. 
This course is full of great insights on how to quickly incorporate more productivity into your daily routine. To further explore these insights, you can have a look at our Bullet Journaling Your Way summary on Uptime.
On Uptime
Chris Kyle is a great 'productivity role model' because of his self-identified belief that he wasn't always a high achiever. In fact, he admits that he used to really struggle with laziness and getting himself motivated. One day, though, he decided to change his life; he realized that habits were the key to achieving long term goals, and his self-created Habit Journal was a natural way to make his own 'good habits' stick. 
In this Udemy course, Chris Kyle shares the secrets of his award-winning Habit Journal and how to use it to create productive habits. 
How do you make your own habit journal? 
In this case, journaling is an exercise in commitment - commitment to our goals and becoming our best self. 
Goals are achieved in the process of daily steps: break every goal into as small daily tasks as possible. Journaling helps you envision which habits are harder for you and which you have already mastered.
The habit journal also helps you visualize your progress—you can create habits without a journal, but it's hard to track them without the physical demarcation.
Know yourself to create your habits. Habits aren't one-size-fits-all. What works for one person might be wrong for you.
Before you get started, spend some time thinking about what YOU want to get out of habit journaling. Goals that align with our values and lifestyle are much easier to reach than those that we pick up randomly from another person or book. 
Be positive as you begin the process. Negativity is a killer of good habits, and habits are better produced when we're in a good mindset. The right mindset helps you be ambitious but also realistic. When you're journaling, keep track of your mood and work to improve your mindset when you sense yourself becoming negative. 
To explore these lessons in more detail, have a look at our The Habit Journal summary on Uptime. 
On Uptime
Organize your morning, organize your life.
Jeff Finley's guide to waking up will help you as much (or more) than your usual dose of morning coffee. Use this guide to create your morning routine and make sure you're starting each day productively.  
The perfect morning awaits. Here's how:
Create habits that are vital to your life and goals, and commit to them. Some ideas include reading a chapter or two of a book in the morning, catch up on a podcast to keep up-to-date with relevant industry news, cook a healthy breakfast, or having a chat with a loved one. 
Any 'expert' can tell you what they do in the morning, but building your personal routine is ultimately up to you. You know your own patterns, likes, dislikes, and commitments best of all - so try out different methods and see what works best for you.
No matter the specifics of your routine, clarity and peace are must-haves. Mindfulness can help you impart these ideals into your morning; incorporate meditation into your morning to stay in the here and now. 
Journaling is an excellent addition to any morning routine. It helps you get to know yourself better and focus on the day ahead. Plus, when you look back on these morning musings, you can pick out thoughts and behaviors that keep occurring. 
Still curious? To learn how to put these ideas into action, you can have a look at our guide on how to Create a Perfect Morning Routine on Uptime. 
Start today and experiment with what journaling methods work the best for you. Thanks to these experts, you now have a game plan for starting your own journaling practice. 

PS - if it's more productivity insights you're after, you can have a look at our other tips for planning out your week, holding yourself accountable to sticking to your new routines, and managing your study time with the Pomodoro technique.
Recommended