September 14, 2021
Marie Kondo's Guide to Decluttering Your Life
If it's a tidy house you're after, let Marie Kondo walk you through the basics of decluttering and organising your home.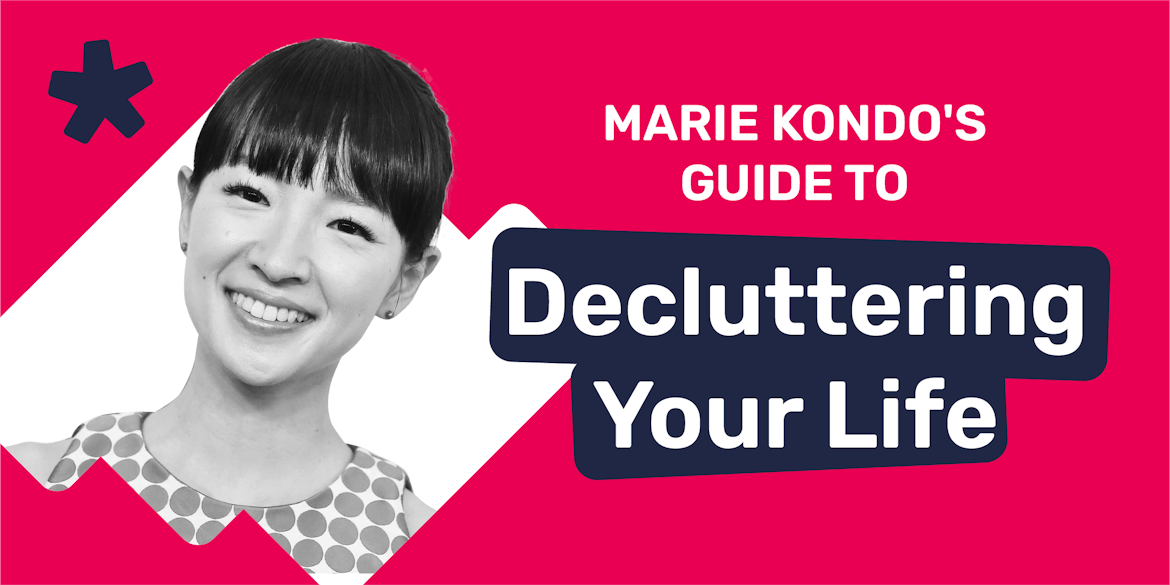 How can we start the Marie Kondon method of tidying up? What even is the Marie Kondo method of organising? Are you tired of how much time you spend tidying, cleaning the house - or maybe you've just seen a video of someone folding jeans in a super slick way, and want to expand this further into your home? If you're looking for some home organization tips, then it's time to try the Marie Kondo method for decluttering your home.
We've curated all of Marie Kondo's key lessons for how to clean your house, using tips we've compiled from her best-selling books - The Life-Changing Magic of Tidying Up, and Joy at Work: Organising Your Personal Life. Remember, organization and minimalism are totally different things, and your house needn't become clinically clean for you to have reached a state that can 'spark joy.'
On Uptime
Upon its publication, this book propelled Marie Kondo into the mainstream media with her foolproof methods for minimising clutter in your home while making sure it's all worthwhile, and personally valuable. The book has been so important that over 6 million readers have found value in her teachings, but tidying up isn't just about being meticulous and clinical. Your mental involvement is just as important.

The question of what you want to own is actually the question of how you want to live your life.
One of the key things that we can learn from this book is to tackle the easy things first. Many people might be inclined to do the opposite, starting with difficult tasks so that as time goes on, the workload becomes easier.
Assess your relationship with household items, pieces of clothing, and even food in the back of your cupboards. Take a look at each item, and ask yourself whether it 'sparks joy'. 
(Get yourself familiar with these words, because 'sparking joy' is key to Marie Kondo's methods.)
If something doesn't hold sentimental value to you - and, importantly, it doesn't hold any purposeful value either - get rid of it. Take action and soften the blow by storing it in the attic before a trip to the tip, or opt to donate useful pieces to those in need. 
Remember the days when the expression 'YOLO' was all the rage? (That was about a decade ago, frighteningly.) The Life-Changing Magic of Tidying Up also came out in 2010, and, fittingly, Marie Kondo put her own spin on the popular phrase: YODO. You Only Declutter Once.
Kondo takes about six hours to declutter a client's home from top to bottom, but she's a pro - you should allow yourself a weekend at minimum. 
Having decluttered, you will probably emerge with a new mindset, meaning you will buy less and accept fewer gifts into your home. With fewer possessions, you are likely to keep your space cleaner and tidier - a win-win.
What is the Marie Kondo method?
If all of this talk has ignited an inner spark of inspiration in you, you may be wondering where to start. Fortunately, Kondo highlights five simple questions to help you assess difficult items:
What is the purpose of this object?
Has it fulfilled its purpose already?
Why did I get this thing?
When did I get it?
How did it land in my house?
For more challenging items, you may find that you have become emotionally attached. The process is actually a lot shorter - there are two key questions that can help you determine whether to keep something or not:
Does this thing make me happy when I see it or hold it?
Do I see or hold it on a regular basis?
To summarise, Kondo and Hirano's book teaches us to discard items that we don't need, to prioritise things that 'spark joy,' and, most importantly, to dedicate a substantial amount of time to the work involved with decluttering our home.
YODO. Oh, and YOLO too - don't spend too much time nitpicking your home. 
To keep unpacking these lessons, have a look at our The Life-Changing Magic of Tidying Up book summary on Uptime.
On Uptime
As you would expect, this book takes what we now know about our homes and refocuses the lens on the workplace. We've all heard the saying 'tidy desk, tidy mind,' but where can you start? With many of us working from home, it's important to both minimise distractions and keep work and home life separate, as difficult as it may be. 

The goal of the method shared in this book is not just to have a nice neat desk, but to begin a dialogue with yourself through tidying.
You're going to be happier, more productive, and more profitable with a clean workspace, which is both beneficial to you and your employer. A boss who sees that your desk is in order will likely believe that other things are in order too, including your work. This could mean the link to a promotion, a pay rise, or better responsibilities. 
Not sure where to start? Marie Kondo says to begin with books and papers - the physical things that take up the most space on your desk, aside from your computer.
What is the Konmari method of organizing?
If you're yet to hear about the KonMari method, it revolves around three elements of joy:
Immediate joy.
Functional joy.
Future joy.
Fail to meet any of these criteria, and it's unlikely that whatever you're holding deserves space in your workplace. Once you think you're done, go digital. Tidy that computer, the random junk folder, and your inbox. 
Throughout the entire process, maintain a vision of how you want your desk, and workplace, to look. You could even come up with a mood board, or an entire Pinterest board dedicated to this. 
If you're stuck at the final hurdle, and have some paperwork lying around, try these organisation steps to house loose-lying sheets:
Pending or continuously used.
Requirement or necessary.
Desire (things that help your productivity).
You could do this with your computer, too. Create two or three folders using the names above (or similar) to keep things neater. Kondo recommends no more than 10 folders to organise your inbox, so rather than having folders each for home insurance, gas bills, electric bills, water bills, council tax, and so on, keep it all in a 'Home' folder. 
To explore these insights in detail, have a look at our Joy at Work book summary here.
For this blog post, we kept things simple with two books each dedicated to home and work life. While different, both follow similar guidelines, reminding us to assess whether an item 'sparks joy.' Particularly useful are the questions we can ask ourselves when confronted with a challenging item.
For tens of other organisation-related hacks, not to mention the broader range of short book and course hacks, begin your search - and keep your brain happy in the process - with Uptime.
Recommended