July 30, 2021
Mark Zuckerberg: The Books That Made Me
Today, Mark Zuckerberg is worth over $130 billion. But which inspiring books and big ideas did the tech mogul use to propel his success? To satiate your curiosity, we've done the hard work for you.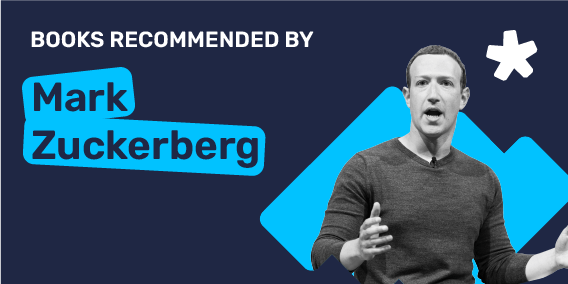 Although a controversial figure, the scale of Mark Zuckerberg's success is undeniable. He dropped out of college while a sophomore at Harvard University, but today the Facebook co-founder and CEO is worth billions.
The tech billionaire is among the five richest people on the planet, thanks partly to his successful social network acquiring other social media apps over the years, including Instagram and WhatsApp. He's also known to be a great fan of surfing and other water sports, and for his philanthropic work with wife, Priscilla Chan. 
Here are Mark Zuckerberg's recommended reads for anyone curious to expand their outlook and broaden their knowledge.
On Uptime
Also a favourite of Elon Musk, this book revisits the lessons that Thiel (co-founder of PayPal and the first outside investor in Facebook) learned about transforming start-ups into runaway successes. Thiel teaches that the key to a business's success is a vertical leap, not horizontal one. 

Brilliant thinking is rare, but courage is in even shorter supply than genius.
On Uptime
Co-founder of Opsware, Horowitz knows a thing or two about the struggles faced by businesses today. But he also knows a few things about the successes that come with taking risks - in 2007, for example, he sold his company to HP for a staggering $1.6 billion. 
Horowitz believes that the sign of any good CEO is honesty: good or bad news, everyone involved with the company should know. Whether you're what he would call a 'One' (a visionary) or a 'Two' (someone who prefers execution over researching), there's one thing that all CEOs share: that they must be comfortable to the unknown. A great leader always knows when to ask for help.
On Uptime
Agassi, the world-renowned tennis player, details his journey to self-awareness while handling the immense pressure of his sporting success.
Agassi's talent may be due, partly, to his father's persistence: he would hit up to 2,500 balls a day. Agassi's relationship with his father became more difficult, though, and Agassi also uses this work to explore the dark underbelly of the life he's led. Agassi's story is one of persistence, determination, and courage. He writes that he will forever be on a journey to become a better version of himself - none of us can ever be a 'finished product'.

What you feel doesn't matter in the end; it's what you do that makes you brave.
On Uptime
Today, money, religion and empire all shape our global society, but such power comes at great cost. Philosopher and intellectual Harari explores how we humans became the world's dominant species. Readers will learn that humans developed in three stages: cognitive (that's things like language), agricultural (domesticating crops and herds), and scientific (the ability to increase knowledge). The big question becomes: will we have the knowledge and creativity to avoid self-extinction?

One of history's few iron laws is that luxuries tend to become necessities and to spawn new obligations.
On Uptime
Did you know Einstein received his Nobel prize not for the famous e=mc2 equation, but rather for the foundations of a theory that later went on to be known as the quantum theory? Einstein built on the work of others and remarked that light travels not only in waves but as particles, too. Many years later, he refused life-saving surgery, professing that it was his time to go. On his deathbed, he left behind 12 pages full of equations which showed how he never stopped learning. Life is short: say yes, overcome your fears, and do the things you've always wanted to do.

To punish me for my contempt of authority, Fate has made me an authority myself.
On Uptime
Bell Labs single-handedly changed modern communications for good: until the 1920s, phone calls were arranged. This was all changed with the invention of the telephone ring. The lesson here? If you want to have an impact on the world, think big, and think broad.

If you haven't found a market to sell the product, you have not innovated.
On Uptime
Based on over 30 years of the experience of Ed Catmull, president of Pixar, this book explores the working ethics of employees, managers and bosses. Even more important than having a good idea, he says, is having a good team. Similarly, a failure is not the fault of a single person, but the entire team. Finally, he recommends that employees decorate their workspaces, allow the expression of creativity and the elimination of boredom.

Zuckerberg may be a controversial figure, but we can certainly learn one or two things from the thought leaders here.
To learn more about the key insights from these books, and start your journey to becoming a thought leader of your own, head over to Uptime to start seizing knowledge.
Recommended