September 10, 2021
How to Travel on a Budget
Travel should not be a luxury. Whether you've got $5,000 or $50, there are many ways to travel the world on a budget, and without blowing through your savings - so we've compiled a list of the most helpful tips for you to use here.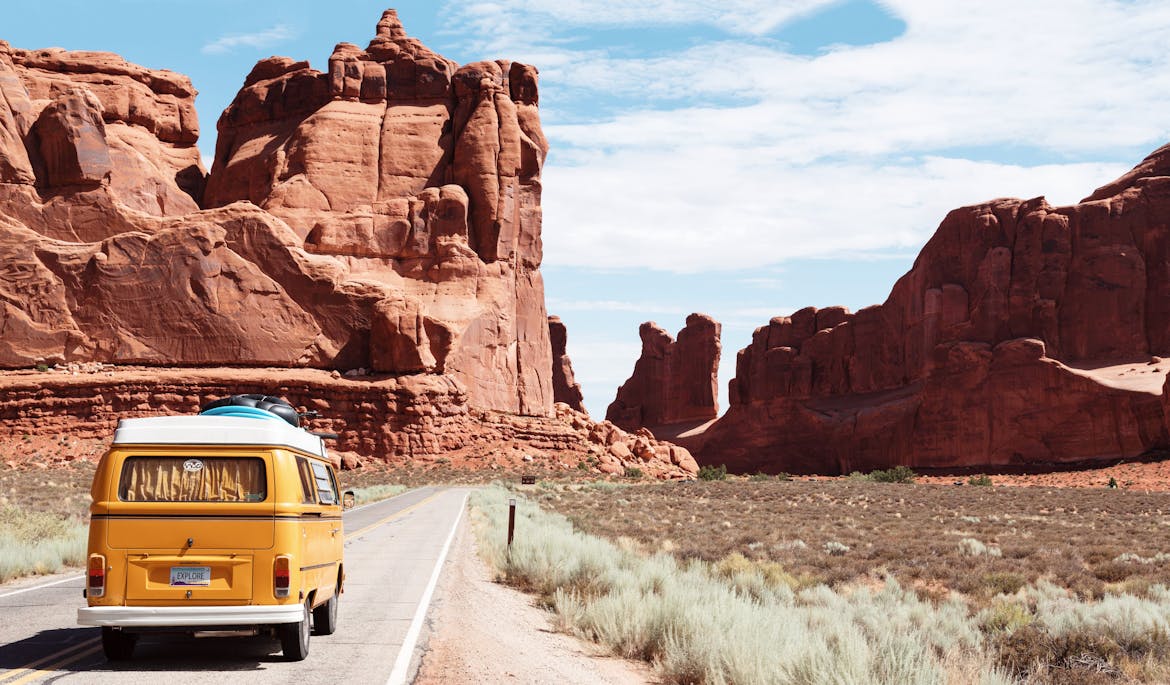 What destination or vacation trip is top of your bucket list? Camping in the countryside in your home country, a road trip around America, interrailing around Europe, an international tourist hotspot like Disney World, or relaxing on beautiful islands in the Caribbean, maybe? Wherever it is you'd like to explore, you're sure to be filled with questions: "How can I travel on a budget?" "What's the best way to pack a suitcase if I'm travelling light?" "Is solo travel better than going with my friends or family?" While we couldn't possibly answer all of these in one article, we can certainly begin to help you explore your chosen destinations while also managing your money and maintaining your safety. So, we present "How To Travel on a Budget", tips curated from Uptime's choice of the best travel books, courses, and guides out there on how to travel the world even when you're broke.
You may have heard of the joke about young people 'finding themselves' during their gap years. Despite the cliche, this is often true; there's something soul-affirming about realizing there's a lot more to the world than the one right outside your window.
On Uptime
Let's start with a quote from famous explorer and aviator Amelia Earhart once gave us a quote for us all to live by:

When a great adventure is offered, you don't refuse it.
This is a great life lesson for life generally, but it works for travel too. In Become a Travel Hacker, the only course listed in this article, is the brainchild of author Chris Guillebeau - perhaps best known for his books The $100 Startup and The Happiness of Pursuit. The course explores how to manage your budget whilst also hacking various aspects of your travels.

The key lesson here? The art of 'travel hacking' is all about planning.
If you happen to be someone that enjoys planning and preparation, this news is probably music to your ears. However, for the vast majority, this process can feel like a daunting and exhausting mission at first. To help you tackle this task one step at a time, here are a few things to keep in mind:
1. We're already familiar with loyalty schemes in supermarkets, but they're equally as important for when we're trying get from A to B. You can collect what are often referred to in the industry as 'points' or 'miles' by completing a journey with certain companies, or by signing up through incentives and deals. Sign up for all the loyalty programmes you can to increase your chances of grabbing a bargain. Top tip: create a separate email address for this to maintain focus in your primary inbox.
2. You can also have more than one bank card: debit, credit, and travel. Incentives and rewards can vary, so spend your money wisely to benefit the most from each. Keep in mind that applying for multiple credit cards in a short space of time is likely to have an impact on your credit score, and only spend what you can afford.
3. Finally, try to avoid booking the first flight, Airbnb, or hotel that comes up on Google before committing to buy. When you invest that extra five minutes to do a bit of extra research and hunting around, you might find cheaper alternatives; for example, perhaps it's more cost-efficient to book an indirect flight, or to fly into a nearby location and complete the journey on land. 
For more invaluable travel tips, have a look at our Become a Travel Hacker summary on Uptime.
On Uptime
Travel blogger Matt Kepnes has travelled to countless destinations, and his first lesson is that every location provides a different experience, with its own challenges and opportunities. He cites Australia as an expensive location, but if you know where to stay - budget hostels, or even camping, for example - you can keep your budget under control. A great place to start learning about living on a dynamic budget is South East Asia, where the cost of living is comparably low. 
This book summary draws on Matt Kepnes' first-hand knowledge and experience on the ways that we can cut the costs of travel. We're often bombarded with adverts flogging expensive flights, luxury hotels, and all-inclusive tours when we start Googling new potential cheap vacation destinations, but there's much more to travelling than these sorts of options, so don't let these ads put you off. 

If you are told a lie frequently enough, you begin to believe it - and as a whole, we believe the myth that travel is expensive.
When we think about planning a trip abroad, common excuses for putting off these plans for another year include financial restrictions or a lack of knowledge. But these are often a front for our fear. Home is a place where we are comfortable - a predictable environment. We need to put ourselves into new situations in order to grow. And, importantly, there are many ways we can travel without blowing all of our hard-earned savings.  

For every excuse, there is a solution.
1. Keep your holiday low-cost by withdrawing your money out in advance
Start with your bank. Be sure that there are no ATM fees for when you're travelling abroad, and if there are, try to get enough cash out in advance. You can also check if the currency exchange rate for your destination of choice ranks well. 
2. How to budget your trip
From there, everything stems from preparation. Have a list of options ready to go and fish out last-minute deals where you can. Read up on locals' guides on transport options to ditch the mainstream links, and opt for home-cooked meals over takeaways. (This step is about looking for hostels or Air Bnbs with self-catering options, such as a small kitchen where you can cook your own food.)

Never eat in a tourist trap.
3. You can travel on a shoestring by finding work opportunities while you're abroad
Finally, if you can, make a bit of extra cash. Whether that's experiencing a new job in the place you're travelling - you can pick up summer job postings by bartending, making coffee, handing out flyers, or even lifeguarding, for example. Alternatively, thanks to more flexible modern-day remote working attitudes, you can take your home job away with you and work remotely on your laptop from your travel destination. 
To explore these insights in action, have a look at our How To Travel The World on $50 a Day book summary on Uptime.
On Uptime
This book of essays takes a different approach to travel, reflecting upon the feelings and unique life opportunities that travelling can invoke.

Travel accedes to its true nobility when we ensure that the physical journey can support a well-defined inner journey towards maturity and emotional health.
Focus on the small details as much as the big ones; visiting a temple or famous museum is great, but observing the people around, the landscape, and the differences between local culture and your own is also a rewarding exercise. What lessons can you learn from this new place? What takeaways can you incorporate into your routine, lifestyle, or way of thinking when you get home again?  
Immersing yourself in another culture can give us a sense of 'otherness,' but it can be an excellent opportunity to learn about different ways of living. 
If you want to solidify these memories for a long time, involve the people you encounter during your travels too. Make a point of talking to strangers, locals, stallholders, activity leaders, fellow travelers at your hostel, and so on. 
No matter the type of person you are at home, try to embrace your 'traveling alter ego' on vacation - someone who's open-minded, curious, and spontaneous.
Remain open to new experiences and try to put yourself out of your comfort zone. Everyone has a story to tell, and an open-minded mindset can lead to some of the most valuable experiences. 
To find out more about why travel is good for the soul, have a look at our How To Travel summary on Uptime.
In Summary
We started this article by getting to grips with the basics of travelling: the planning, ensuring that you've got a wide enough exposure to loyalty schemes, and financial opportunities to be able to make a saving in the long term, etc. 
Next, we picked up some tips about saving money when we're somewhere different, by avoiding tourist traps and living like a local.
Finally, we rounded up our learning with a reminder that travel is crucial to our core. Whether it's abroad, or just somewhere local that we're not familiar with, exposure to new experiences, senses, and feelings can help develop us psychologically. 
If this has inspired you to plan your own trip - alone, or with company - search for other travel-related Knowledge Hacks on Uptime to make sure you don't leave home without considering every eventuality. 
Recommended